"We have an opportunity, we need to embrace it."
"That was slap in the face Jackass moment."
"It's about collaborative care, not silo'd care."

"We can set a new normal."
Article referenced: What I Learned at HIMSS: PTs Are Health Care's Forgotten Provider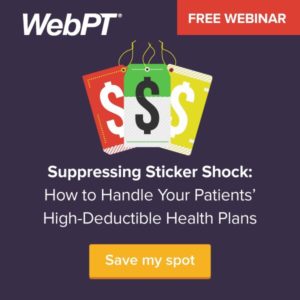 Therapy Insiders Podcast is proud to be sponsored by WebPT!
Have you had the deductible talk with a patient yet? Yea, chances are you have. It's a difficult conversation to navigate. Would you like to learn how to tackle it head on and improve the persons understanding in such a way that it helps everyone? Have you had issues collecting payments from patients with high-deductibles? Obviously, there are many issues with high-deductible insurance plans. Check out this FREE webinar, Suppressing Sticker Shock by Heidi Jannenga, President of WebPT and Nancy Ham, CEO of WebPT! Heidi and Nancy address the aforementioned questions and help explain strategies to handle patients with high-deductible plans. You don't want to miss it!
About Heidi from https://www.webpt.com/about
Heidi Jannenga

, PT, DPT, ATC/L

President and Co-Founder

Heidi was a collegiate basketball player at the University of California, Davis, and remains a lifelong fan of the Aggies. She graduated with a bachelor's degree in biological sciences and exercise physiology, went on to earn her master's degree in physical therapy at the Institute of Physical Therapy in St. Augustine, Florida, and obtained her doctorate of physical therapy through Evidence in Motion. When she's not enjoying time with her daughter Ava, Heidi is perfecting her Spanish, practicing yoga, or hiking one of her favorite Phoenix trails.